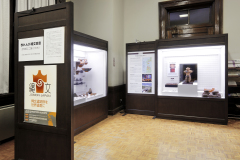 In recent years, Hokkaido, in cooperation with three other prefectures (Aomori, Akita and Iwate) and related municipalities, has been seeking to obtain world heritage listing for the Jomon archaeological sites in Hokkaido and northern Tohoku by proactively introducing the value and fascination of the Jomon remains to numerous people throughout the world.
The "Red Brick" Exhibition of Jomon Artifacts is held in Gallery of Hokkaido's History on the 2nd floor of The Former Hokkaido Government Office Building, and serves as a straightforward introduction to the Jomon culture of Hokkaido.
Various artifacts from the Jomon archaeological sites are exhibited, including Hokkaido's only national treasure, the Hollow Clay Figurine (Chuku-Dogu). Though the figurine is a replica, it is an elaborately created artwork, looking exactly the same as the real one. These artifacts are exhibited with panels in English and Japanese, and five kinds of leaflets on the Jomon Archaeological Sites in four languages (Japanese, English, both simplified and traditional versions of Chinese, and Korean) are available.
If you are interested in the Jomon culture in Hokkaido and Northern Tohoku, you must visit this exhibition.

* Open seven days a week from 8:45 to 18:00, excluding the year-end and New Year holidays (from December 29 to January 3)
* Admission free
Exhibits as of March 1, 2015 (235 pieces)
* Artifacts without chronological order or owner are considered the property of the Hokkaido Government Board of Education.
Grindstones (5 pieces)
Kitakogane Shell Midden, Date City / Latter half of the early Jomon period (approx. 5,500–5,000 years ago)
Property of the Date City Board of Education
Shell beads (7 pieces) / fishhooks (3 pieces) / harpoon heads (3 pieces) / needles (2 pieces)
Irie Shell Midden, Toyako-cho
Former half of the late Jomon period (approx. 4,000 years ago)
Property of the Toyako-cho Board of Education
Clay figurine – national treasure (replica: 1 piece)
Chobonaino Site, Hakodate City
Latter half of the late Jomon period (approx. 3,500years ago)
Clay and stone objects processed into triangles and circles (26 pieces)
Washinoki Site and Washinoki 4 Site, Mori-cho; Sanjiro River Right Bank Site / Former half of the late Jomon period (approx. 4,000 years ago)
Property of the Mori-cho Board of Education
Bell-shaped clay objects (3 pieces)
Washinoki Site and Washinoki 4 Site, Mori-cho
Former half of the late Jomon period (approx. 4,000 years ago)
Property of the Mori-cho Board of Education
Stone crown (1 piece)
Washinoki 4 Site, Mori-cho / Former half of the late Jomon period (approx. 4,000 years ago)
Property of the Mori-cho Board of Education
Clay vessels (2 pieces)
Washinoki 4 Site, Mori-cho / Former half of the late Jomon period (approx. 4,000 years ago)
Property of the Mori-cho Board of Education
Jade beads (11 pieces) / clay vessels (7 pieces) / spouted circular vessel (1 piece)
Kiusu 4 Site, Chitose City
Latter half of the late Jomon period (approx. 3,500 year ago)
Lacquered bracelets (replica: 4 pieces), artifacts from the burial pit of Hokkaido Karinba Remains – national important cultural property
Karinba Site, Eniwa City
Beginning of the final Jomon period (approx.3,300 years ago)
Property of the Eniwa City Board of Education
Stone clubs (2 pieces)
Bibi 4 Site, Chitose City
Beginning of the final Jomon period (approx.3,300 years ago)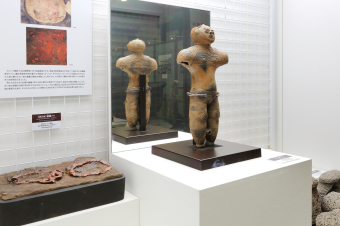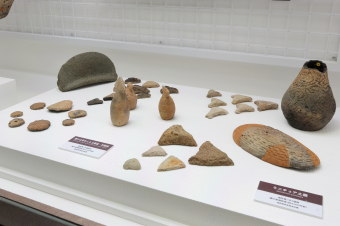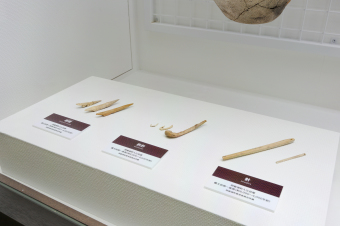 Inquiries
Tel

011-204-5168(World Heritage Jomon Remains Promotion Office)